Tesla, the best battery company in the world?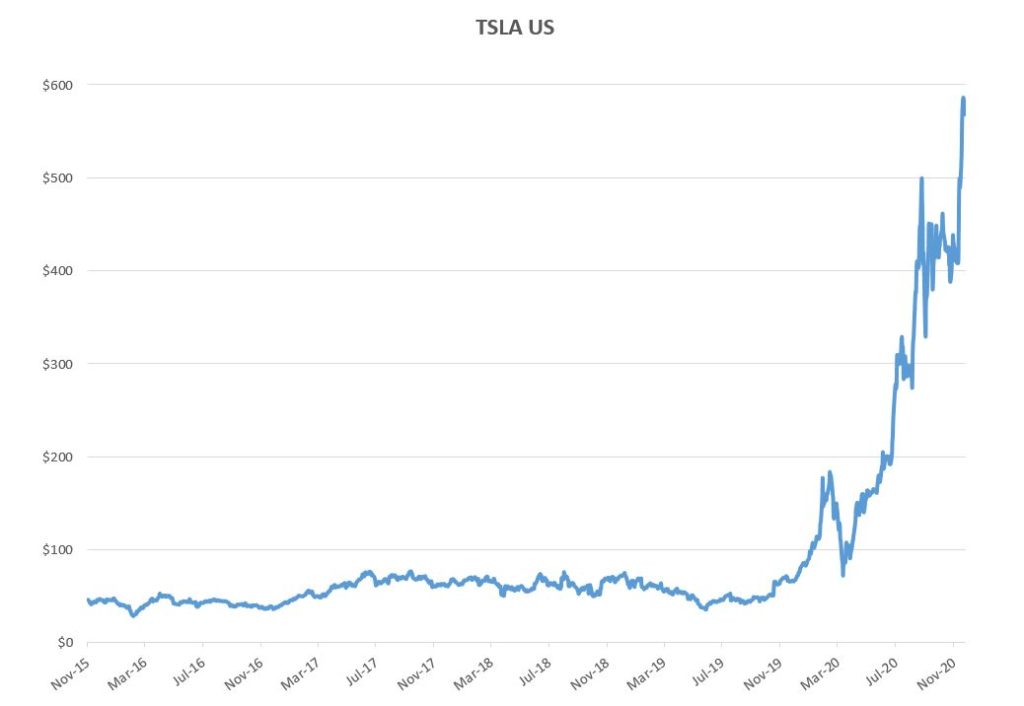 It's been almost 12 years since Tesla sold its first street legal all-electric car and 10.5 years since it's IPO (the second American car company to do so after Ford in 1956!) and what a ride it's been. Since the start of the year the company's share price has been defying gravity rising seven-fold to become the largest car company in the world by market capitalization, dwarfing Toyota, VW, Audi, Nio and Daimler combined, and soon will be joining the S&P 500 hall of fame on December 21st as one of the youngest companies. The incredible pace of evolution at Tesla has left most traditional car companies in the dust by banking exclusively on the battery powered vehicle. We all remember the first production hybrid vehicle, the Toyota Prius, which despite its controversial design, managed to dominate its market for two decades before being challenged by its rivals. Fast forward to today and every car company is desperately battling to comply with the EU's CO2 emission standards (95g/km of CO2) by the end of 2020 or be subject to heavy fines, whilst Tesla finds itself in the sweet spot of being in the lead on the road to net zero carbon. Since its debut, Tesla has been nothing less than disruptive to the transportation world (just like Uber was to the sector). One could argue that it is more of a technology than a car company but clearly it has shifted the goal posts in both sectors to become a cult stock (with an outrageously high PE ratio) or more commonly referred to as a "moonshot" (no pun intended). It has also been the most shorted US-listed stock on the market causing much pain to some of the most highly respected hedge fund managers.
There are numerous acronyms to be found on the web as to what TESLA stands for (besides being the Serbian engineer behind the AC motor), but one which I find most appropriate and reflects their mission statement is The Electric Solar Lifestyle Alternative (energy generation and storage is a smaller but growing part of the business). The backbone of the company's success has and continues to be its battery technology (which nobody has been able to copy to date). As a child we all had battery powered toys to play with and as adults we continue to rely on battery powered toys (cell phones, laptops, power tools, EVs etc.) and it's all about battery performance and how long you can last on a single charge. And that's where Tesla had and continues to have a leading edge. It still leads the competition in terms of mileage on a single charge and will most likely maintain that lead by producing its own batteries for the years ahead. So, what makes Tesla different? Less moving parts (17 drivetrain parts versus 200+ for an internal combustion engine), an enormous amount of torque (enough to make any diehard petrolhead squirm), constant acceleration (no time wasted in shifting gears), permanent four-wheel drive (for safety and traction), affordable and a fast 7-seater family car.
Breaking the 500km/h speed barrier seems to be the nirvana of any hyper-car manufacturer (just recently surpassed by the all-American SSC Tuatara, but yet to be officially recognized) but then again who in their right mind would want to drive at that speed, yet alone find a straight road long enough to achieve that without being arrested or killed by the slightest gush of lateral wind. But try accelerating in a Tesla Model S in "Ludicrous Mode" (the equivalent of a "Launch Control" in modern sport cars) to the next traffic light (0-100 km/h in 2.28 seconds) and you can put to shame the fanciest, exclusive and most expensive of supercars (including any brand powered by a naturally aspirated, turbo-charged, hybrid or all electric motor – and street legal; the list is too long and embarrassing to be included here!). Try a quarter mile race against these cars and you have a different story (even the good old V12 strikes back), but Tesla is working on challenging the best supercars on the infamous and merciless Pike's Peak Hill Climb (20 km and 156 corners) and the Nürburgring's Nordschleife track (20.8 km and 76 corners) and the results are not too shabby for its Model S, although the latest iconic limited edition Mercedes-AMG Black Series has just managed to outdo itself on the latter track as the fastest production car in history (it is a two seater carbon-fiber fitted racetrack car and not a seven-seater family sedan), but only by 30 seconds! We are all looking forward to Tesla's new 4-seater roadster to be released next year which promises to deliver even more outperformance and a range of 1,000 km. If one could add some German engineering (but not too much) and some Italian design (a la Pininfarina) to Tesla's Model S, you could have the next best Christmas present, as you may not be getting on an airplane anytime soon. Or you can wait until next year for the new Tesla Roadster which will get you from 0-100 km/h in less than 2 seconds!
You know that times are changing at a fast and furious pace when the Hummer, of all cars, goes all electric with its latest Humvee RV. As the old adage goes, the best way to predict the future is to create it…
Drive safely and Merry Christmas!
Past performance is not indicative of future results. The views, strategies and financial instruments described in this document may not be suitable for all investors. Opinions expressed are current opinions as of date(s) appearing in this material only.
References to market or composite indices, benchmarks or other measures of relative market performance over a specified period of time are provided for your information only. Notz, Stucki provides no warranty and makes no representation of any kind whatsoever regarding the accuracy and completeness of any data, including financial market data, quotes, research notes or other financial instrument referred to in this document.
This document does not constitute an offer or solicitation to any person in any jurisdiction in which such offer or solicitation is not authorized or to any person to whom it would be unlawful to make such offer or solicitation. Any reference in this document to specific securities and issuers are for illustrative purposes only, and should not be interpreted as recommendations to purchase or sell those securities. References in this document to investment funds that have not been registered with the FINMA cannot be distributed in or from Switzerland except to certain categories of eligible investors. Some of the entities of the Notz Stucki Group or its clients may hold a position in the financial instruments of any issuer discussed herein, or act as advisor to any such issuer.
 Additional information is available on request.
© Notz Stucki Group