Medical technology: it's good for your wealth.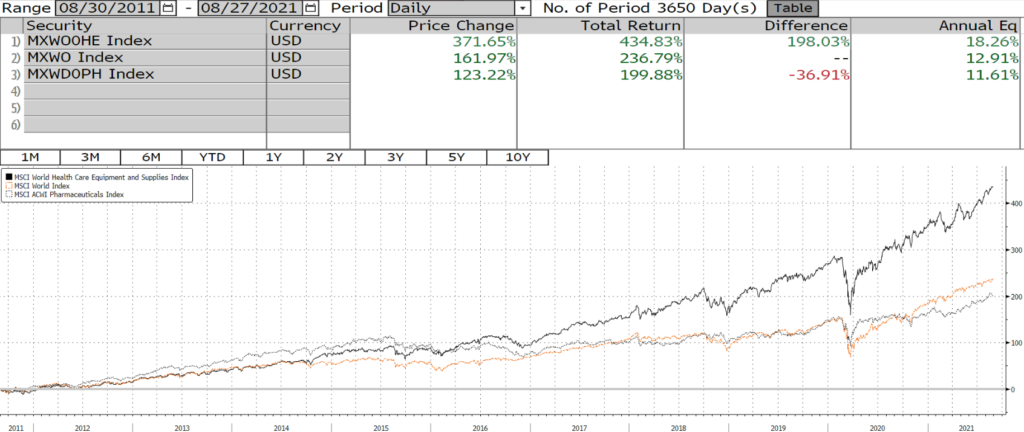 Remember Grand Master Flash and the Furious Five's lyrics in "The Message" in 1982? They pushed that girl in front of the train, took her to the doctor, sewed the arm on again, stabbed that man right in his heart, gave him a transplant for a brand-new start …. Well although it was certainly not the purpose of "The Message", Grand Master Flash was already talking about Medical Technology: repairing what seems unrepairable in the human body.
Stents, cardiac valves, pacemakers, hearing aids, hip/knee/shoulder replacement, robotic surgery, eye and dental care, added to diagnostics, analysis and general medical supplies: these are the domains where Medical Technology companies sell their products and services.
The sector, as shown in the chart, has been an exceptional performer during the last 10 years, outperforming the MSCI World and the MSCI World Pharmaceutical Index by more than 5.3% and 6.5% respectively on an annualized basis.
Many factors explain this wide outperformance: on the pure demand side, one of the obvious drivers for Medtech is ageing population, as, to some extent, elderly need almost all the solutions provided by the sector in order to live as pleasantly as possible, as long as possible. Also, on the user side (read surgeons, dentists and doctors in general), these equipment and supplies tend to attract very strong customer loyalty: in most cases these are critical products which practitioners will be reluctant to move away from if they give satisfaction. Also, on the regulatory side, Medtech is less (but not immune) vulnerable to patent expiration.
But, perhaps, the offer side is becoming a leading force: technological advances and breakthroughs are stunning by all standards. This is where technology comes into mind, with miniaturization and digitalization in particular. Medicine is doing a lot of progress in terms of treatments, which is often supported by the immense innovations offered by Medical Technology.
Raising eyebrows after such a rally for the subsector is understandable. But at the same time, it seems clear that we're far from seeing the nadir of what Medical Technology is able to deliver in terms of health-enhancing solutions. As a person, you want Medtech to keep on doing good for your health; as an investor, it is highly probable that Medtech will be good for your wealth.
Past performance is not indicative of future results. The views, strategies and financial instruments described in this document may not be suitable for all investors. Opinions expressed are current opinions as of date(s) appearing in this material only.
References to market or composite indices, benchmarks or other measures of relative market performance over a specified period of time are provided for your information only. Notz, Stucki provides no warranty and makes no representation of any kind whatsoever regarding the accuracy and completeness of any data, including financial market data, quotes, research notes or other financial instrument referred to in this document.
This document does not constitute an offer or solicitation to any person in any jurisdiction in which such offer or solicitation is not authorized or to any person to whom it would be unlawful to make such offer or solicitation. Any reference in this document to specific securities and issuers are for illustrative purposes only, and should not be interpreted as recommendations to purchase or sell those securities. References in this document to investment funds that have not been registered with the FINMA cannot be distributed in or from Switzerland except to certain categories of eligible investors. Some of the entities of the Notz Stucki Group or its clients may hold a position in the financial instruments of any issuer discussed herein, or act as advisor to any such issuer.
 Additional information is available on request.
© Notz Stucki Group