How far can the divergence go?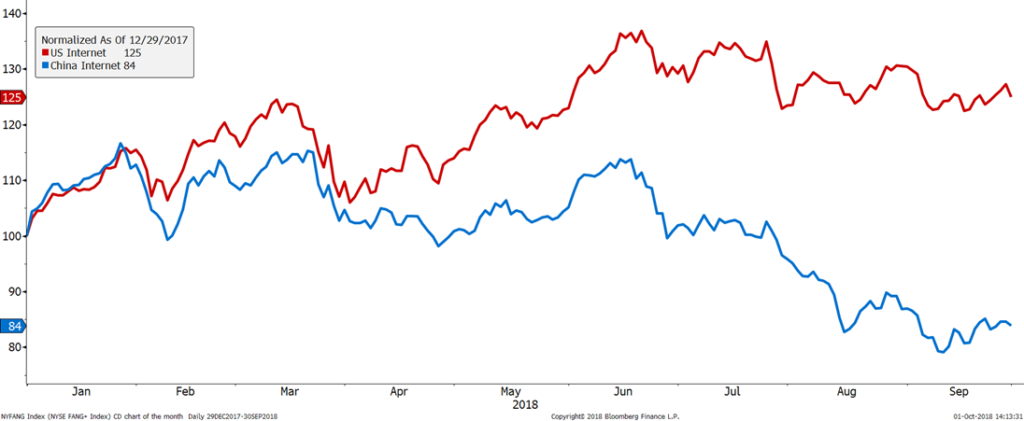 The difficulties of emerging markets
Emerging markets ("EM") have suffered since the beginning of the year. It is difficult to consider emerging markets as one entity as China has become such a large stand-alone economy and market related issues arise each year in specific countries; Turkey, Argentina and Venezuela in 2018 so far. This being said they are all still more or less sensitive to global growth and liquidity. With central bank quantitative tightening ("QT") starting to occur, we have already seen a strong appreciation of the USD versus EM currencies while media headlines were only about US-led trading wars.
US technology stocks, the new safe haven
In this context, US technology stocks appear to be the new safe haven, outperforming all other US sectors again this year. This result is slightly surprising to some extent as the growth rate potential is starting to decelerate in some of these companies and the political risk has significantly risen over the recent months. So far Facebook and Google have successfully made sure that the US Congress would leave them quiet at least for some time.
China Internet stocks
Over the last 12 to 18 months several of our managers have increased their exposure to leading Chinese technology companies like Ali Baba and Tencent. Their potential growth rates looked higher than their US counterparts and thanks to China's centralized economic action plan, political risks seemed to be lower. Unfortunately, the combination of Chinese retail confidence pessimism, US QT, EM weakness and the US strategy of containment of China has led to a pronounced performance divergence between US and Chinese Internet companies. Even if it is difficult to assess the evolution of the political confrontation, the superior Chinese growth remains intact.
Time to play the convergence?